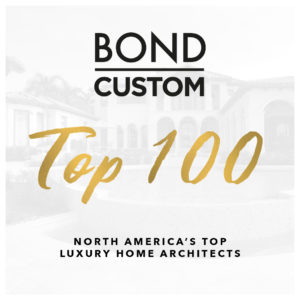 BOND has released its first annual BOND Custom Top 100 list; a ranking of North America's Top 100 luxury home Architecture firms.
We are pleased to announce that Yardstick Studio, LLC made the Top 100, coming in at #67.
The BOND Custom Top 100 is the first definitive list to honor luxury home design firms. We are delighted that our team and the work we do has been recognised in this way, alongside so many other exceptional firms.
Architecture firms across the USA and Canada were invited to enter and ranked according to 3 criteria:
Total construction value of all standalone high-end custom home projects for 2016
Total billings in this sector for 2016
Awards won in 2015/2016/2017
2007 AIA President, RK Stewart FAIA, who oversaw the ranking in his capacity as BOND Event's Vice President said: "BOND is pleased to recognize the work of North America's custom home Architects by publishing this Top 100 list. The work of these firms illustrates a broad range of approaches and styles to meet the needs of families across regions and climate zones. These homes illustrate how Architects apply their design skills to make peoples' lives better. Congratulations to the firms included in this years Top 100."
RK Stewart FAIA, Vice President, BOND Events & 2007 National President, American Institute of Architects
For the full list visit www.bit.ly/BONDCustomTop100